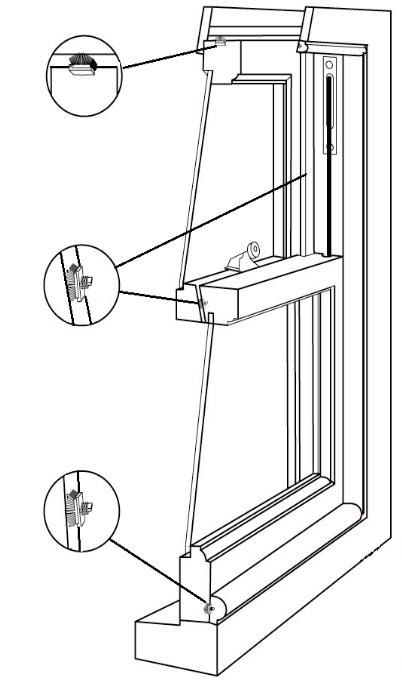 REDUCED VAT @ 5% DUE TO GOVERNMENT GREEN DEAL INITIATIVE
A draught proofing overhaul drastically improves the functionality and thermal performance of your windows in a number of ways, making your household more environmentally friendly and reducing your energy bills.
First windows are fully dismantled from the inside, and the sashes are removed to a designated working area.
The existing cords/ beading and weights are also removed and set aside. If any repairs to the timber frame are needed they can be done at this time and are separately itemised and priced.
The box and sashes are scraped back to bare timber, removing years of paint build-up, and ensuring the sashes slide smoothly when the components are reassembled.
If the full decoration service has been selected (which we highly recommend) at this stage we can fully prep, tape and decorate your sashes and boxes, allowing us to achieve a far superior finish than if the sashes are painted in their frames. When the sashes are removed frames are boarded securely from the inside to keep the elements out, and your property secure.
The sashes are planed down to ensure they fit the boxes correctly and meet with each other accurately. We machine a narrow channel to areas of the sashes to house the weather pile system, which creates a seal around the sashes, offering excellent draught prevention.
The sashes are weighed and correctly rebalanced using lead bars where necessary in addition to the original steel weights, then re-corded using top quality nylon core sash cord. The sashes are tested to ensure they are moving smoothly with very little effort.
Timber staff and parting beads compliant for use in listed buildings and conservation areas are installed to ensure a draught proof functional window.
The weather pile system is barely visible, however the difference in functionality and resistance to the elements is immediately felt.
Advantages of the draught Proofing Overhaul
Draughty voids between sashes and window frames are eliminated.
Air flow from each draughty box sash is reduced from an area of up to 20cm² to next to nothing.
As a result you'll see massive savings on your heating costs; money that was literally flowing out of the window!
Sashes line up correctly for locks and security features to work effectively.
Sashes open and close effortlessly.
Properly sealed sashes keep out bugs, pollution and dust.
Annoying rattles from wind and traffic vibrations are eliminated.
Street and traffic noise is reduced.
Sashes are counterbalanced correctly so they do not fall down; improving not just efficiency but safety
(this is especially important in children's rooms and to prevent damage to newly installed slimlite double glazing).
Improved comfort and warmth in your home.